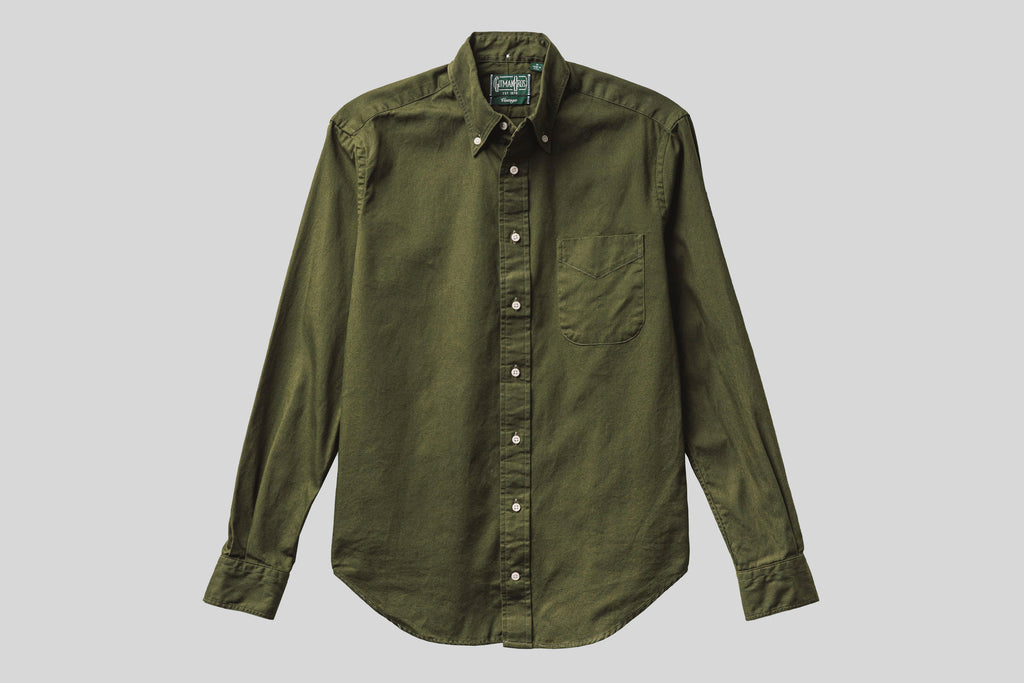 Gitman Vintage Olive Overdye Oxford Shirt
Product Details
100% cotton
Cambridge Oxford
Slim fit
Made in USA
In 1932, Brooklyn based shirt-maker Max Gitman left New York and opened the Ashland Shirt & Pajama Company in the coal mining town of Ashland, Pennsylvania. With his two sons, Alfred & Sheldon, he ran the factory as a contract shop until 1978 when the Gitman Bros. brand was born. Today, they are one of the few remaining shirt-makers with all our production based in the USA.
Launched in 2008, Gitman Vintage pays tribute to the brand's rich heritage with a unique interpretation of the past.
--
Gitman Vintage's classic Oxfords are made from 100% cotton Cambridge Oxford, a durable cloth that softens when washed but remains virtually indestructible. This fabric was used for the first stock shirt made in 1978 and it's the very same cloth that they use today.
This classic button down Oxfords are cut slim with a tailored fit through the body and sleeves. Unlined collars and cuffs and our pre-washing process creates a softer look and helps to minimize additional shrinkage. Made in the USA.
Sizing
| | | | | | |
| --- | --- | --- | --- | --- | --- |
| Inches | S | M | L | XL | XXL |
| Chest | 41" | 44" | 47" | 50" | 54" |
| Shoulders | 18" | 19" | 20" | 21" | 22" |
| Sleeve Length | 33" | 34" | 35" | 36" | 36" |
| Length | 30" | 31" | 32" | 33" | 33.5" |
| Neck | 14.5" | 15.5" | 16.5" | 17.5" | 18.5" |