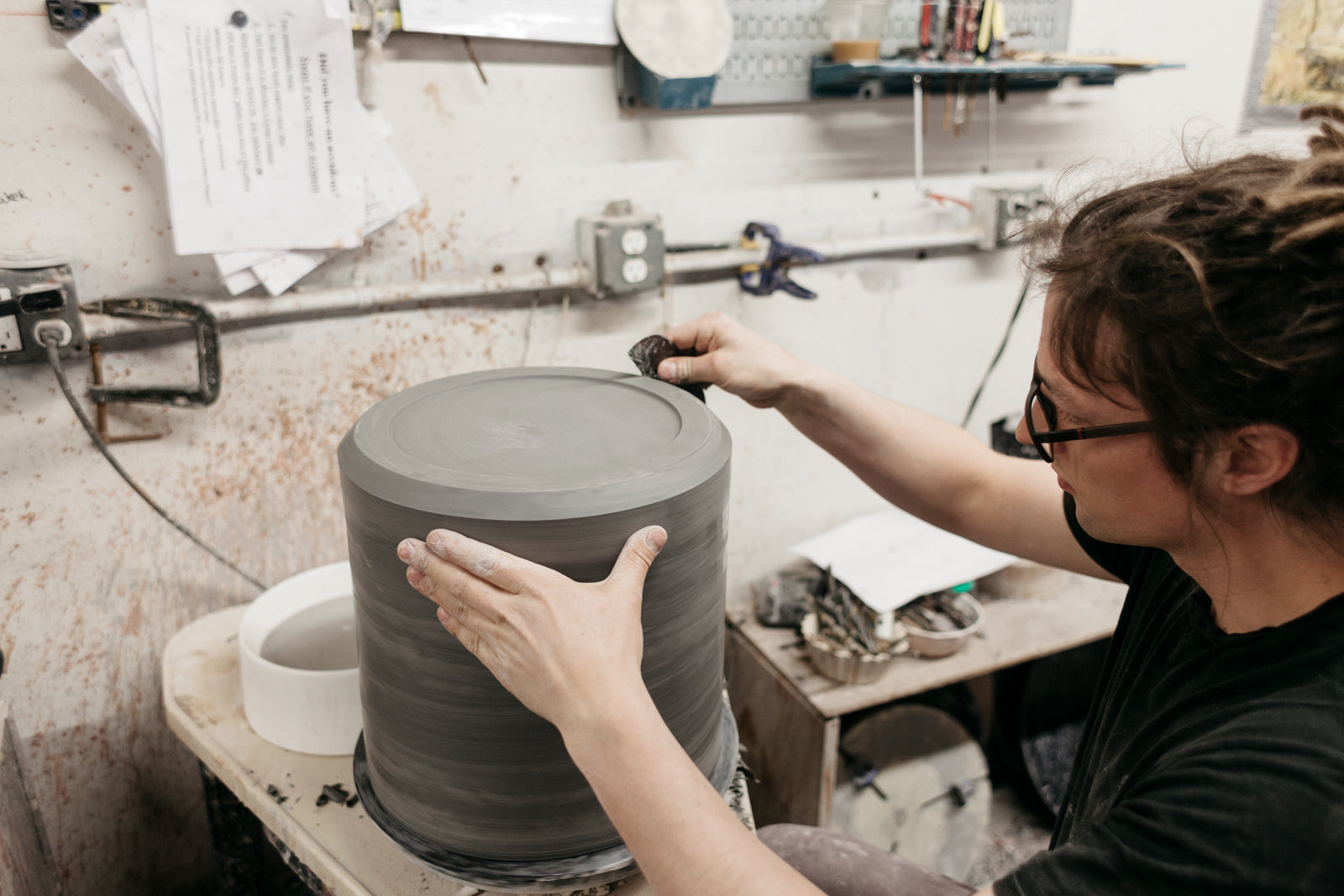 Keeping Traditions Alive
What makes pottery from Norden so special? For one, we work really hard to make our products responsibly and sustainably in the U.S. We love continuing the rich heritage of California and U.S. made pottery and we are proud to support the work of our partners, especially during a time when many factories are shuttering and more and more ceramic production is transitioned overseas. Even though it's way more difficult, we believe that working directly with domestic ceramic artists and paying close attention to every detail of our production process leads to a more unique item with a unique story.
Candles
Each and every one of our ceramic candle vessels are hand thrown in California by master ceramicists. We could cast them or have them made elsewhere, but we feel that the small differences in each container and the fact that they are made right in our backyard make each vessel a precious item. You can see the work of the ceramicsist's hand in each individual Norden candle cup. On top of being made from extremely durable stoneware, our custom ceramic glazes are food and dishwasher safe—so after use, our candles take on a brand new life. Once our candles are done burning, the vessels can be washed out and repurposed as drinking vessels, planters, vases, or desktop organizers.
Creating the candle cup is only the beginning of our candle's journey. After making their way to our Carlsbad, CA studio, our production team hand pours each container utilizing a custom formulation of natural plant based wax, essential oils, and fine fragrance oils. Before finding their way into your home, at least six different sets of hands have directly been a part of the production process in making your Norden candle.
Norden ceramic candles are available in six unique scents, each inspired by places we have visited around the world. From Ojai to Øresund, our candles capture our olfactory memories of time and place.
Tabletop Pottery and Planters
We produce all of our tabletop pottery and planters in the U.S.A. with help from our factory partners in Oregon and Southern California. All Norden planters, dishware, and ceramic vessels are handmade from earthenware and stoneware—developed to stand the test of time and fit seamlessly into your home.
Our smaller ceramic pieces are all hand built and wheel thrown by master ceramicists in southern California, while the larger pieces are slipcast in Oregon. The process begins with each planter being cast in our custom molds and then hand trimmed on a wheel by a ceramic artist. After trimming, the planters are bisque fired, then glazed with one of our custom blended colors and fired again. We are proud to be one of only a handful of brands mass producing such large pottery domestically. This new production process, started in 2018, will allow us more flexibility to create new planter designs and colors going forward. For now, our large planters are available in three versatile shades—white, black, and terracotta—and in three sizes: 10", 12" and 15". Follow along on @nordengoods for a behind the scenes look at our process and ideas on how you can add Norden products seamlessly into your space.