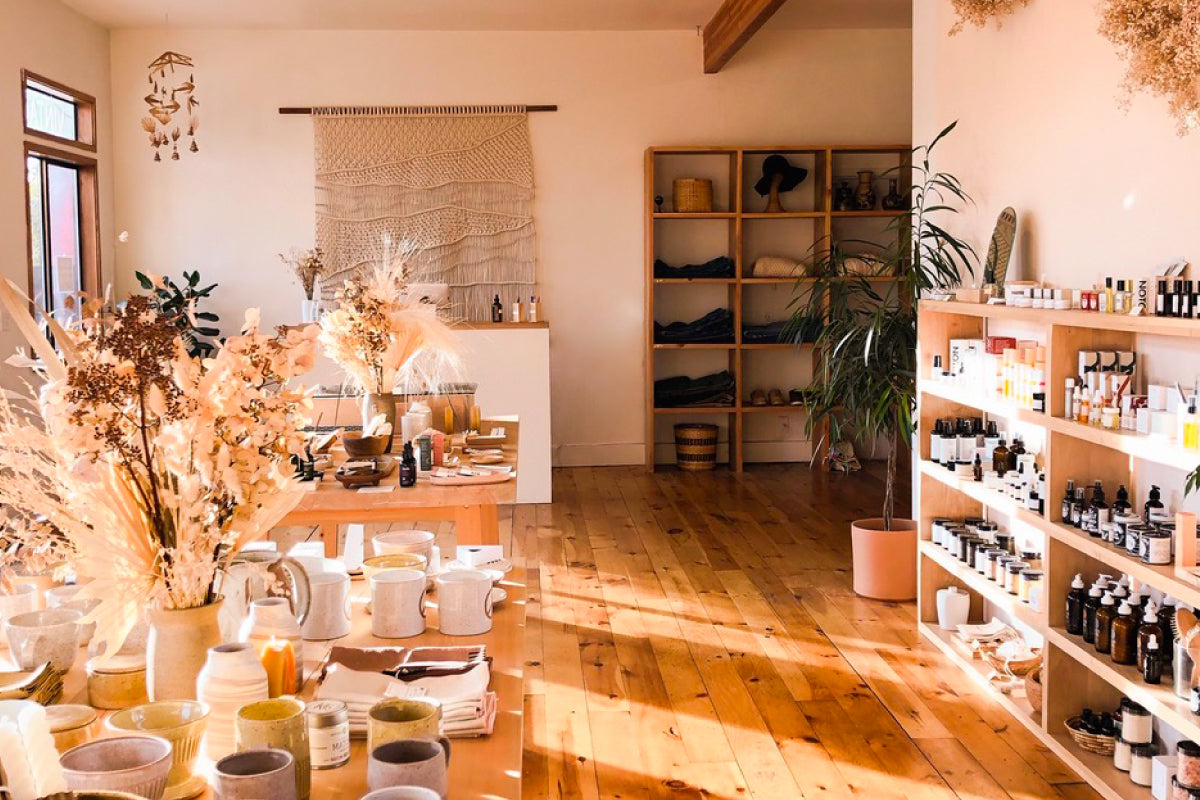 NORDEN STOCKIST: DANO
A warm and welcoming shop in Portland,
DANO
was founded by Melissa Grandkoski with the intention of inspiring and supporting a conscious and radiant lifestyle. The interior of DANO is beautiful, and each shelf is thoughtfully curated with goods from independent makers. DANO brings together plant-powered apothecary, handmade wares, and hand-picked vintage pieces. We are proud to see Norden stocked on DANO's shelves, and are excited to share an interview with Melissa Grandkoski, DANO's founder, here.
What is the inspiration behind DANO?
I wanted to create a space that felt like a warm hug for the mind, body and soul. A space which nurtures the self in many forms. A space you want to stay awhile. Living in a city like Portland, our winters are quite grey. DANO creates a momentary escape from these rainy winter days with its warm tones and light-filled interior. The shop is named after my great grandmother, Dano. Her home was a magical place for me as a child. My memories of her home and all the things that filled are a constant inspiration behind DANO. Her home was a place that fostered the imagination and appealed to the senses. I wanted to capture this feeling with my shop as much as I could. DANO brings together plant-derived beauty, body care, and wellness products, alongside independent makers and curated vintage clothing — to inspire a radiant conscious lifestyle. In curating the products offered here, I wanted to keep it simple. Every brand has been thoughtfully chosen. Every vintage piece is hand selected. I did not want to overwhelm the customer with an abundance of choices, but instead help inspire a mindful retail experience. I do my best to stock the shop with pieces of work that go from the maker's hands to the shelves. I love the story and soul that handmade objects hold. These items are more intimate than those that are pushed through mass production lines. Most importantly, I aim to align with brands and makers who have similar values in keeping their footprint small and make products that are kind to the Earth and kind to Humans.
You just celebrated your two year anniversary! How do you feel about operating a small business in 2021?
I have not even had a moment to wrap my head around 2021. Hahaha! Lets just say, 2020 was extremely challenging! But I remained flexible and adapted to whatever was thrown my way. I ended up closing the shop doors in mid March - June due to COVID health restrictions. DANO did not have a web shop at the time, so that was a bit scary. I was not sure how business would fair with a closed brick and mortar and no web shop to bring in sales. But, in order to keep DANO moving forward, I offered free local deliveries to all our customers. I managed this all through our Instagram account. I kept IG posts and stories updated throughout the day to help promote what we had available in-store. My husband and I would be out everyday doing no-contact deliveries all over Portland. I also have two children at home who were no longer attending school, so they had to go along for the deliveries and help out with getting orders packed and so on. It was a lot, but I feel that it really payed off. I tried to come up with as many creative ideas to keep the business relevant and accessible to our customers while our doors were closed. During the closure, I created themed DANO PEACE TOTES which were pre-packed with offerings from the shop and available at different price points. Those were a hit. Customers purchased the totes for themselves and many gifted to friends who needed a little something extra during a stressful, lonely time. Once we opened back up again we created a no-contact pick up window for those customers who were not comfortable shopping indoors. Our loyal customer base has supported the shop any way they could during these hard times and I am forever grateful for ALL of their support. If 2020 taught me anything, it is to remain flexible and get creative! With 2021, I will continue to remain just as fluid, creative, and not let these major life shifts deter or hold DANO back.
DANO stocks a variety of beautiful goods for self and space. What are some of your personal staples?
Being on my own wellness journey led me to many of the apothecary products I stock at DANO. I have always been attracted to and strongly align with the ideologies of herbal, Ayurvedic and Chinese forms of healing. With DANO, I wanted to bring all the things I love under one roof. Self-care comes in many forms. Taking care of your inside is just as important as taking care of your outside. Whether that be through an adaptogenic powder for internal wellness, a soothing face oil for a clean beauty ritual, or burning a candle to create calm and peace in your space. Some of my personal favorites from the shop that make their way into my daily life are herbal powders and elixirs from Anima Mundi, Living Libations Sandalwood Best Skin Ever, Linné Repair Face Serum, Noto Resurface Scrub, Noto Multi Benne tint in Oscillate, some form of Organic Full-Spectrum CBD from one of the brands we stock, and the Norden Ceramic candle in Ojai (most of my morning beverages are now served in repurposed Norden Ceramic candle vessels).
What's ahead for DANO?
DANO launched its online store around November just before the holidays. That felt really good to accomplish. I am hoping our offerings for self and space gain more traction on the world wide web. I am dreaming of having a few months where DANO can stay on cruise control so I have some time to light my creative fire for what I would like to do next with the brand. I'd like to continue to grow the business organically and not bite off more than I can chew, since it is just a one woman show behind the scenes. DANO will be expanding into some new categories this year that I am excited about. Further, coming from a design and production background, DANO exclusives and private label stuff is always swirling around in my head. Lastly, I am just patiently awaiting when we can open up DANO for pop-ups, informative talks, and events again. This space was built to share with others, and I am looking forward to those days again.