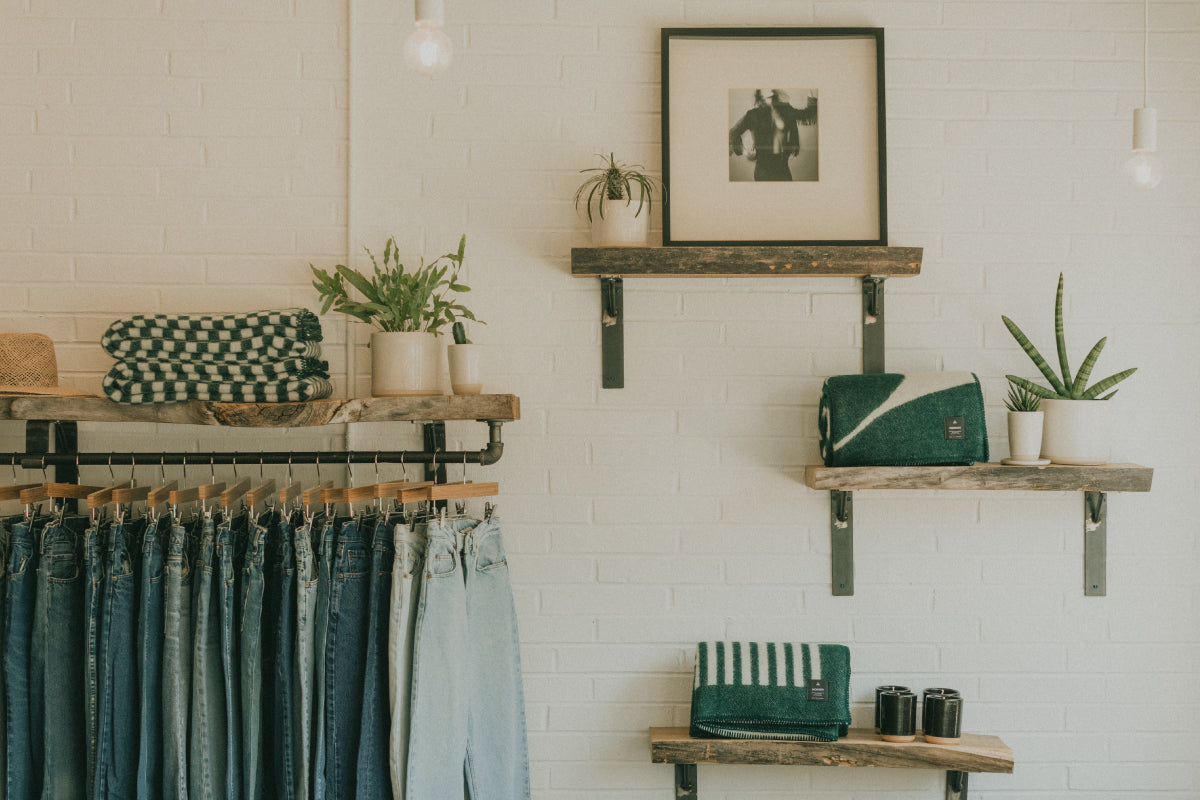 NORDEN STOCKIST: PRESERVATION
Located in Des Moines, Iowa, Preservation is an indepedendent shop featuring a curated selection of vintage and modern clothing, accessories and home goods. Founded by vintage buyer Nicole Trower, Preservation started after she decided to share her love of vintage with the rest of the world - and expand to a brick-and-mortar location. Preservation's carefully sourced vintage goods are always impressive, and are thoughtfully paired with modern pieces with a focus on sustainable design and production. From Monica Cordera to Donni, we are proud to share space with so many beautiful, independent brands.
We connected with Nicole to learn more about Preservation, what to look for when shopping for vintage and what's ahead for the shop. Follow along below! 
All photos courtesy of Brooklyn James Photo. 
What is the inspiration behind Preservation?
Like anything, the inspiration behind Preservation evolves and changes as I do, but to explain it simply, Preservation exists to empower people to express themselves through style and sustainability. Ethics, education, quality and connection are at the core of our values and these values drive all of my decisions. I love connecting with people and sharing my passion for supporting brands and designers that are leading the way in the slow fashion movement.   When I first started, "Vintage"  was really all I knew about sustainable fashion. As I have grown, I have connected with such amazing designers that are really trying to make a difference in the fashion industry and care just as much about the environment as I do. It's really so inspiring and I feel lucky to be able to showcase the brands we do right along with our vintage collections.  
How do you feel about operating a small business in 2021?
Way better than I did in 2020, HA! 2021 feels good, I did a lot of reflecting and learning in 2020 and I think Preservation is better because of it. I have seen a huge push to support small local businesses which is really hopeful and our online presence is growing as well. Overall I think we have the BEST customers and I am just so grateful that I am able to do what I love!   
You have a lot of experience when it comes to sourcing vintage. What are some key things to look for when buying vintage goods?
For me vintage is an opportunity to experiment with fashion and have fun, if a vintage piece gives you good vibes, GET IT! Most vintage has lived a whole other life before it's found again, do not let minor flaws or imperfections detour you, in my opinion it adds to the character and often can be mended. This can also be said about size and fit, the quality and craftsmanship of most vintage clothing made before the 90s is unmatched in mainstream fashion today, so if you find something that is not quite your size don't be afraid to invest in custom alterations. 
What's ahead for Preservation?
Oh man, who knows! I have a small child and hoping to add to the family in the near future so I think for the next few years we will focus on what we do best, which is empowering people through style and sustainability. Re-committing to our core purpose and values have been a top priority lately as we are updating our branding and website in the near future. I would eventually love to expand in some capacity, maybe offering more Preservation branded goods, and do more small limited collaborations with local makers!