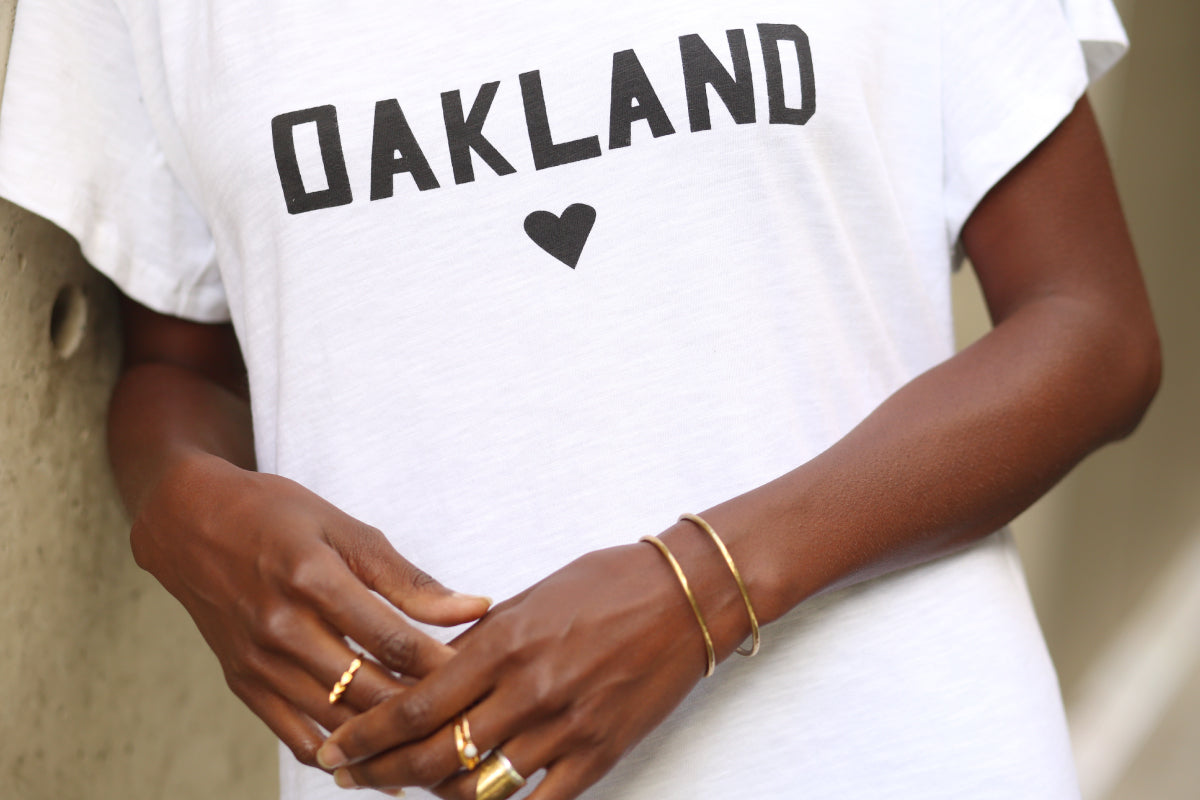 NORDEN STOCKIST: OWLNWOOD
Based in Oakland, CA, OwlNWood is an online shop curated by Rachel Konte. OwlNWood pairs thoughtfully curated goods with their in-house line, ONW by OwlNWood - a collection of simple, comfortable basics designed as one size and made in Oakland. As one of our newer stockists, we connected with Rachel Konte to learn more about OwlNWood and to share how she has navigated the past year. Follow along below to read our interview - and shop OwlNWood online here.
Images courtesy of Bethany Hines Photography (above), Courtney Rondon (below), and OwlNWood. 
What is the inspiration behind OwlNWood?
After years of working corporate as Design Director for Women's Red Tab products at Levis Strauss & Co in San Francisco, I suddenly found myself  in  midst of the recession in 2009 - and like so many other people forced to move on without the safety of my familiar high powered job. I am of Afro Danish heritage and had come to the US from Copenhagen, Denmark, where I was born and raised. I was transferred as a designer from Levis Norden in Scandinavia to San Francisco in 1993 and had settled after getting married and having my daughter here. Finding myself as an entrepreneur was not what I had imagined and it took me another 3 years to find my happy place when I decided to open my first store OwlNWood in downtown Oakland in 2012. OwlNwood was a combination of my passion for vintage, collaborating with small local designers of color and curated my own collection of ONW products. After four fun years running the store I moved to a new location in Old Oakland - a cute area with small restaurants and shops. Here, I was able to expand my collection to a larger product offering ONW by OWLNWOOD - simple comfortable basics, designed as ONE SIZE and MADE IN OAKLAND.
How does your community influence your designs for O.N.W?
I started my retail business at the beginning of a new renaissance in Oakland in 2011, where small businesses and creatives had started to take the chances of opening pop-up businesses and art galleries. The city was flourishing again and  there was a great sense of community among us. I created a small graphic sweatshirt collection of "HEART OAKLAND" products that became a big hit for me. After working in the corporate fashion industry for so many years, it has been super important to me that my messaging is positive and inspirational. My favorites are LIFE IS A JOURNEY and  LOVE IS POWER, LIFE and UNITY.
In 2018, I started a new brand All Power To The People Project LLC with my dear friend Fredrika Newton. Designing and managing both brands is tapping into a lot of collaborations and Oakland history.
How have you and your team navigated some of the unprecedented issues of the past year?
I closed my store in 2019, mostly due to the need for creating a stronger online presence which was not possible for me to achieve, while also running my store  and managing my other job as Chief of Design for my husband's company Red Bay Coffee Roasters. I had already moved my store to more of a showroom  concept when COVID happened, so I had to jumpstart and revamp my online offering. The  hardest part was navigating getting products photographed on models and getting my products printed and produced during a pandemic. And then managing a business during a very difficult year of a pandemic and the devastating Black Lives Matter with George Floyd's death, which was tremendously hurtful and difficult to deal with as a person of color. The positive things that came out of the last year, was the re-focus on black-owned and women-owned businesses. It gave a much needed support to my online business and helped me through the worst of 2020. I also decided to re-create the part of my store that my customers loved so much and started to reach out and add more supporting items on my website. Lines and accessories to compliment my offering. That is also how I found the NORDEN products and this really helped  creating the look and feel of my OwlnWood Online.
What's ahead for OwlNWood?
Well it's been such a crazy unpredictable year. I have been working on a MADE IN CALIFORNIA basic sweatshirt to compliment my MADE IN OAKLAND Tee and I am fiddling around coming out with an OwlNWood Sweater knit offering for Fall2021. It has always been my dream to have  some outerwear and a quilted jacket in my collection. And lastly expand my very popular Side Bag in new colors and fabrics. So lots of fun projects. Currently I am moving my studio and gearing up for getting back online with new ONW products for the Fall season. As the world opens up it is going to be easier to expand the line and get back to business. I am hopeful and inspired.