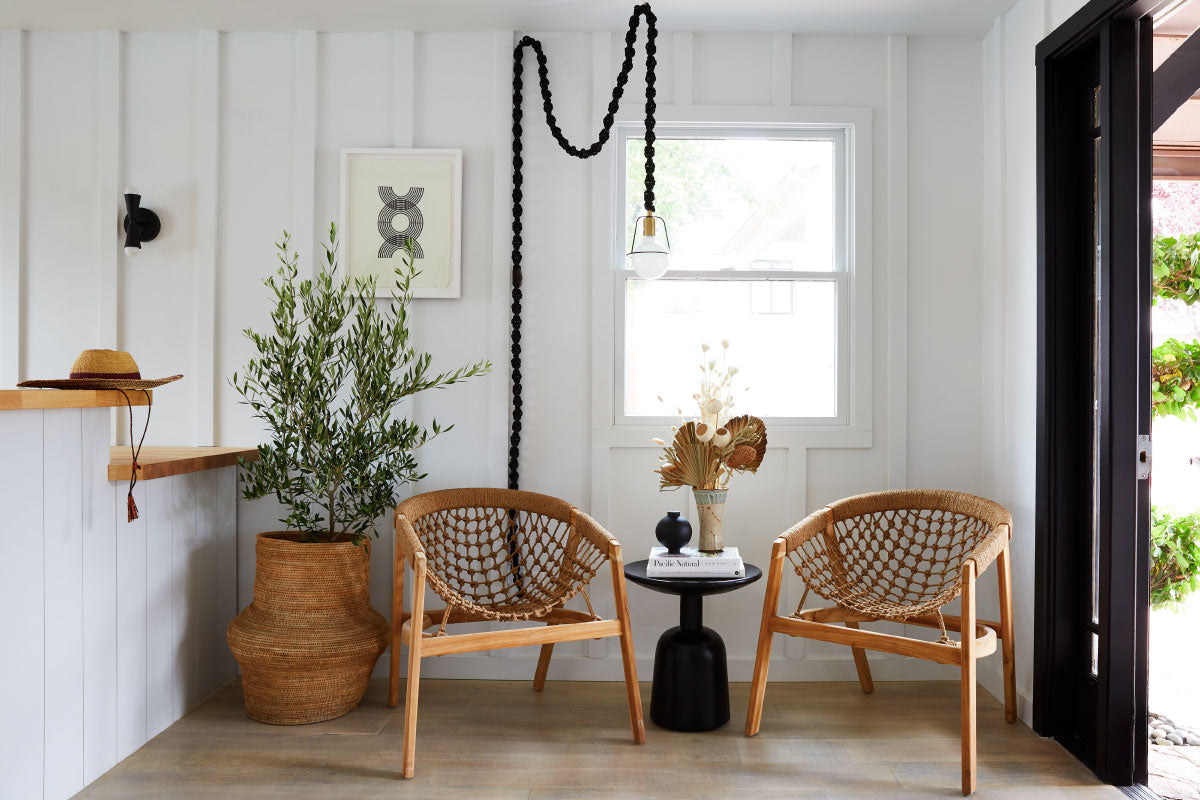 NORDEN STOCKIST: SAN LUIS CREEK LODGE
San Luis Creek Lodge was recently reimagined by PRG Hospitality Group and designed Nina Freudenberger. Located in San Luis Obispo, the hotel has a modern California aesthetic that combines farmhouse influences with an indie-inspired flavor. San Luis Creek Lodge is the sister property to White Water - a seaside luxury boutique hotel in Cambria and another one of our favorites. 
These two properties are the first in the hospitality space for Nina Freudenberger. Known for her portfolio of private homes, and her best-selling books - Surf Shack and ​Bibliostyle: How We Live at Home with Books​. We've always admired Nina's work and love to see how she has translated her aesthetic into the hospitality space. Details like BlockShop prints and tonal walls bring each space together, and Freudenberger deftly mixes vintage and modern elements for an effortless coastal style. 
PRG Hospitality states, "At San Luis Creek Lodge, that sensibility comes to life with her interpretation of a modern California lodge, complete with white exteriors with striking black accents, light oak floors, modern black lighting, and three distinct room styles that each complement the area's rich, inland landscape with deep, saturated tones of blue, green and black."
We are excited to have Norden goods be among the featured products in these two beautiful spaces. If you're traveling up the California coast, we recommend stopping by either one of these two destinations - and sharing your Norden goods along the way. You can find a few of our favorite spots in San Luis Obispo below or find San Luis Creek Lodge's local guide online here. 
Our Favorite Spots in SLO
Eat / High Street Market + Deli
It's easy to love this aptly named market, located on High Street. They've been serving up sandwiches for almost 100 years and are a staple in town for homemade, good food. 
Eat / Kreuzberg California
Inspired by the vibrant cafe scene of Berlin, Germany, Kreuzberg is an easygoing all day coffee shop serving breakfast, lunch and cocktails in the evening. It's the perfect place to get some work done on your trip. 
Coffee / Scout Coffee Co. 
A staple when visiting San Luis Obispo, Scout now has three locations and is working on a fourth! We love their coffee, but don't miss the 'Honey Tea Bowl.'
Coffee / Field Day Coffee
Another worthwhile coffee destination in SLO. We love the roasters they carry and serve, and have been eyeing all the baked goods they're serving up!
Photos courtesy of PRG Hospitality. Image credit to: Jessica Alexander and Jonny Valiant.