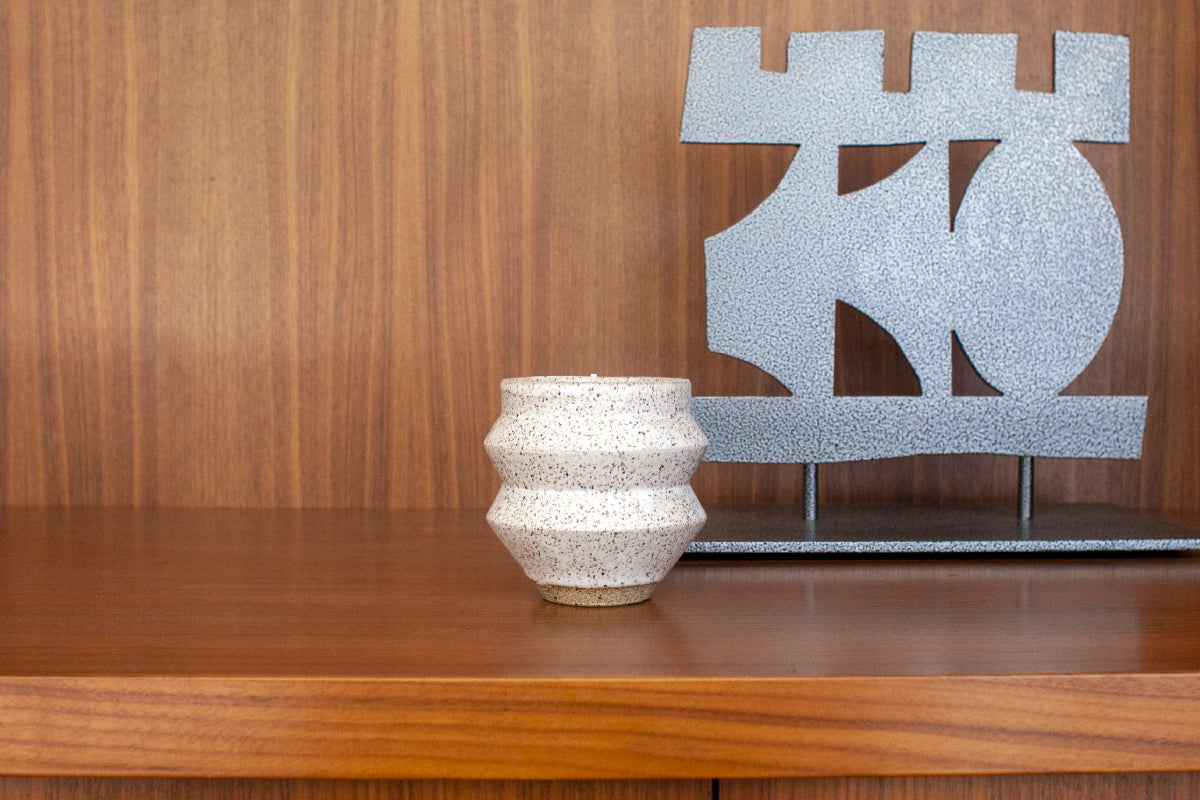 NORDEN X A QUESTION OF EAGLES
In 2017, we introduced the Zig Zag Candle - a very special collaboration with
A Question of Eagles
. We are excited to bring back this unique design in its original scent, again in very limited quantities. T
his candle brings together the incredible artistry and craftsmanship of A Question of Eagles and our passion for high quality, natural fragrances.
We love the sculptural quality of their work, and the Zig Zag vessel of this collaboration is a beautiful illustration of that. 
The Norden x A Question of Eagles Zig Zag Candle features notes of Hinoki, Juniper, Sage and Eucalyptus - and was inspired by the Angeles National Forest. 
A Question of Eagles is a husband and wife duo, Melissa and Jonathan Tolar - who both work behind the wheel to bring the ceramics to life.
 Originally based in Los Angeles, Melissa and Jonathan recently 
returned to their Midwestern roots. We recently connected with them to share more about their process and the inspiration behind A Question of Eagles. 
Where do you get the majority of your inspiration from? 
The natural world, vintage pottery, our cross country road trips and our backgrounds in fine art mostly inspire our design process. Last year we moved back to the Midwest after almost 15 years of living in LA, and have been deeply inspired by the changing seasons we reexperienced here. This summer we're actually going to be adding color to our mostly neutral palette because of it! We also like to approach a design with function as the driving force. It doesn't even have to be a super practical function, but something like 'I want to make a plate that can hold one donut' can spark off the creative process. 
What roles do you each have in the studio? 
Well lucky for us we were each drawn to different aspects of ceramic production. Jonathan primarily works on the wheel and I hand build, so we've developed a really fun way of working together. Often times we hand pieces back and forth to each other to work on. One of the more interesting projects we did a few years ago was Jonathan made a whole bunch of modular pieces on the wheel, just whatever he was feeling without too much preplanning. Then I attached them together in various ways to make a series of large vases. We loved how spontaneous and fresh the work felt for us! We're planning on working on another series in this way this summer. 
How do you sustain new growth in your business without spreading yourself too thin? What do you do to keep things in balance?
This is a great question and the short answer is that sometimes it's REALLY hard to keep things in balance, especially as a husband and wife team. Mostly we try to leave work at work, otherwise the temptation to always be working is there and believe me we've been on the other side of burnout before and it's not pretty haha! And if one of us is feeling overwhelmed to make sure to bring it up and talk about it. The reality though is that running a small business IS a ton of work and especially working with clay that has so many time sensitive steps to the process. We love and really believe in what we do though, and that really keeps up going. That and really learning how to take breaks. Every year we make a promise to ourselves to take more breaks, and I swear one year we'll get there! 

What are your favorite ways to stay cozy at home? 
Lots of tea, burning candles and dog snuggles! And throw in a nice glass of red or an Old Fashioned too :) And quilts, lots of quilts.