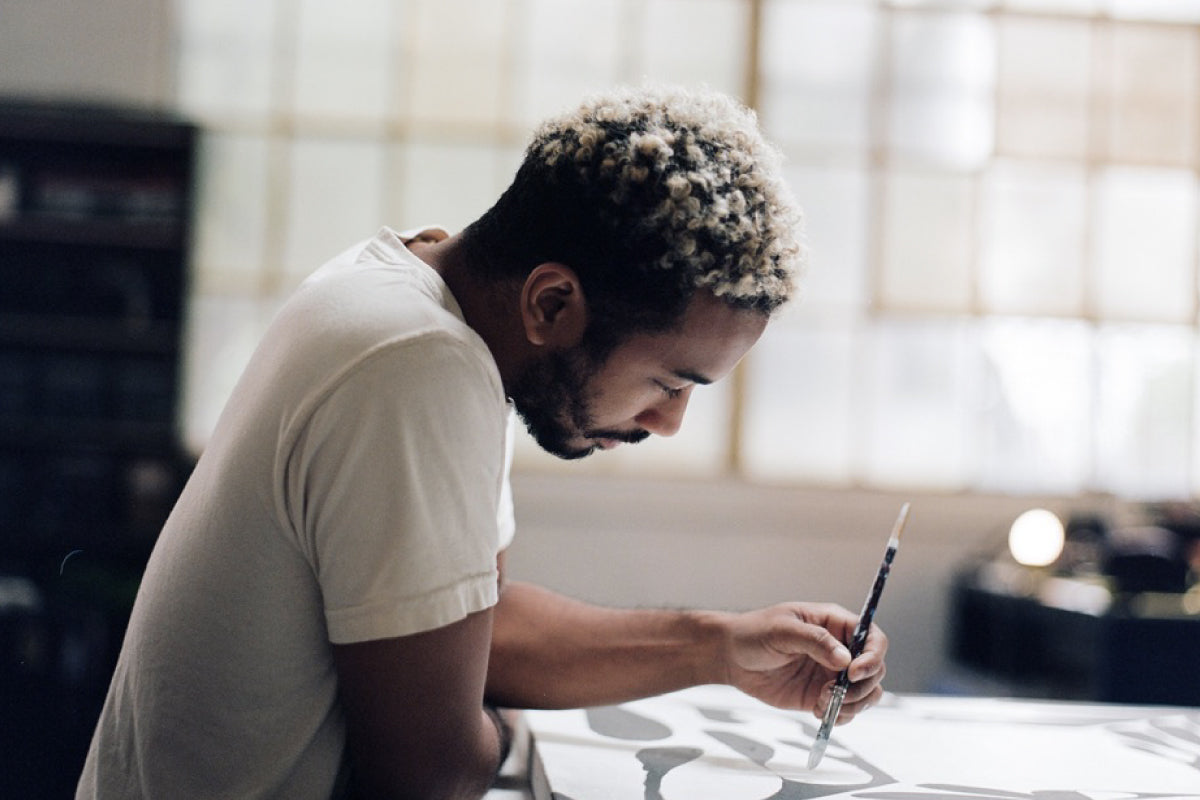 NORDEN X CHAZ BEAR
Chaz Bear is a multi-disciplinary artist, widely recognized as a seminal singer, songwriter, and record producer. Though his musical career is ongoing, Bear maintains a visual art practice which includes photography, printmaking, drawing, painting, furniture design and sculpture. We have been fans of Bear's work, both as a visual artist and as Toro y Moi, for years - and admire his abundant creativity.
We are thrilled to introduce a limited-edition capsule collection, designed in collaboration with Chaz and Company Studio.  The Chaz Bear x Norden collection features a bold wool blanket, incense burner and incense pack - each inspired or featuring original artwork by Chaz Bear for Company Studio. We love the amorphous designs seen in his recent work, and the playful quality to his style. We connected with Chaz to learn more about his inspiration, process and what's ahead. Plus, shop the capsule collection - available now. 
Where do you find the majority of your inspiration?
It depends on the project and who I think the target audience could be… but overall I think I find most of my inspiration from the most mundane things. I think I'm constantly rebelling against technology somehow and striving for a timeless experience.
How do you describe the correlation between your visual artwork and your music?
The only correlation I can find is that they are both a celebration of the Black experience. My work brings people joy no matter who the viewer is and helps the viewer escape reality.
How do you balance both your musical career (as Toro y Moi) and your visual art practice?
From the outside it might look like I have this crazy insane output, which is somewhat true… But the balance for me isn't between art and music but more in work and personal life. I always find myself avoiding being so drowned in my work to where it stunts the creativity/fun/imagineering. It's cliche but self-care is first, there is no need to rush good work. 
What is your workspace like? How does it suit your needs as a multidisciplinary artist?
I have a shared space where I do art and music. It's a loft space with tons of light and near other musicians so it's great for what I do. I think having a place to work and occasionally lose your sense of self is very important, especially these days. When I reached a point to where the business was taking over my apartment and encroaching on my home life I decided it's time to get that shit outta there. I highly recommend any creative to do the same once they can.
What projects are you looking forward to?
2021 is looking like it's going to also be another year of growth and evolving. So I think I'm mainly looking forward to raising the quality of my workspace and home life— house projects and maintaining the space for efficiency. Also a big thank you to you all are Norden for this super fun project, it's a great way to start off 2021 :)