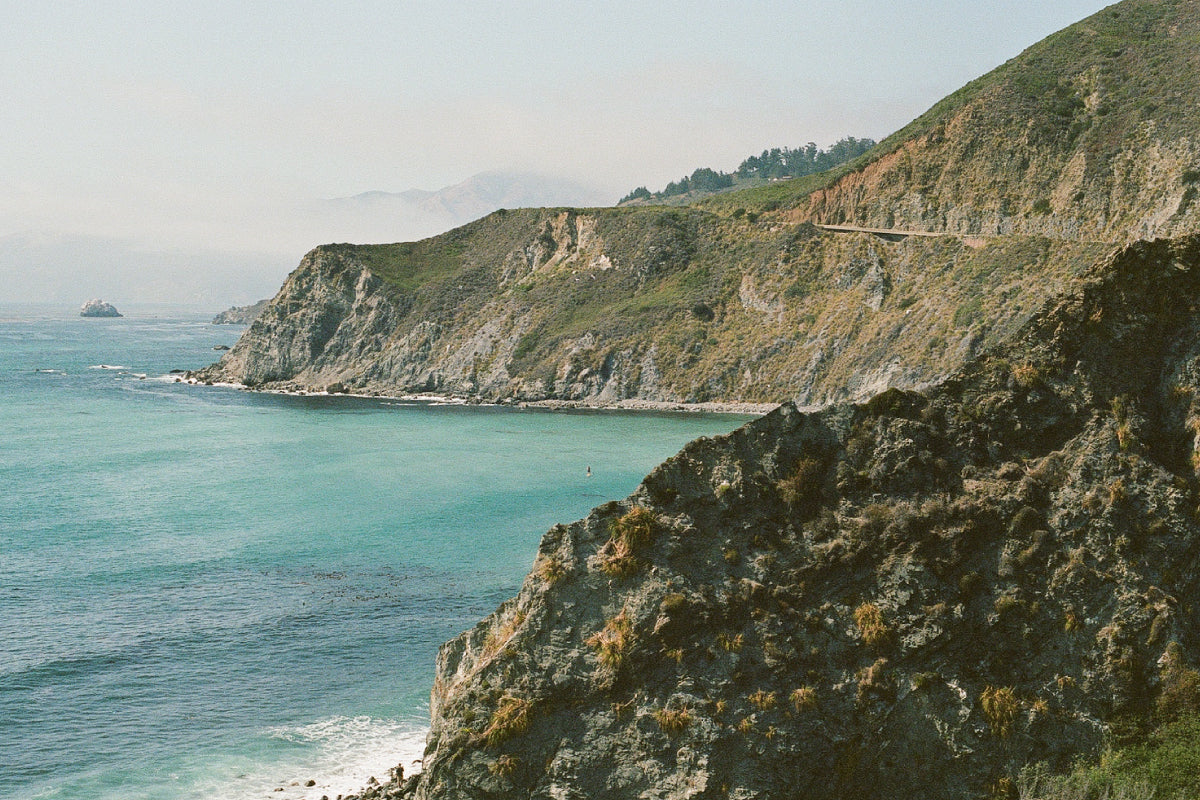 BIG SUR TRAVEL GUIDE
Big Sur is one of the most enchanting places we have ever been, and that's what keeps us going back year after year. Located on the California coast, and split by the winding Highway One, Big Sur is positioned between Los Angeles and San Francisco. The breathtaking coastline is dominated by rugged cliffs that drop into bright blue waters, and rolling hillsides dotted with horses and cattle. We love exploring this natural landscape, and it inspired one of our earliest fragrances - the 12 oz. Big Sur Candle. 
Inspired by a trip we took to Deetjens in the spring, our Big Sur Candle features notes of Oakmoss, Pine, Citrus and Wood Smoke. While we were there, an intense rain storm passed through, downing trees and temporarily closing down the road. In the morning, we hiked up to the bench at the top of the hill above. As it was pouring rain, the smell of pine, cedarwood, earth, and moss was enhanced by the wood smoke rising out of the cabin chimneys below. 
As one of our most beloved fragrances, Big Sur is inspired by our olfactory memories of the region - and we're excited to share a look at our favorite places to explore in this incredible area.
Scroll through for our favorite places to explore, shop, drink and eat. 
Photography courtesy of Claire Reiner and Carter Asmann.
Explore / Big Sur River Gorge
Located within the Pfeiffer Big Sur Campground, the Big Sur River Gorge is a short hike to a beautiful swimming hole. Park in Lot 3 and hike up the trail and over the bridge. Pass through campsites 111 and 112, you'll enter a trail along the river which will lead you to a series of rocky pools within a flowing river. This "hike" requires bouldering through slippery rocks along the river, so we'd recommend wearing appropriate shoes! 
Explore / Andrew Molera State Park
If you're looking for a relatively mellow hike in Big Sur, Andrew Molera State Park is beautiful and leads you straight out to an expansive beach. You can also build or contribute to the driftwood forts that line the beach. There are a variety of trails within the park and it's easy to navigate. Just watch out for poison oak!
Explore / Pfieffer Beach

South of Big Sur Station, Pfieffer Beach is located down a long and winding road within a private neighborhood. To access the beach, visitors must pay an entrance fee (similar to most state parks in the area). Pfieffer Beach is renowned for its rock arch (Keyhole Arch), which allows waves to pass through directly in front of the beach. At the north end of the beach, you might also find purple sand - though it varies from day to day. 
Explore / Henry Miller Library
The Henry Miller Library is an arts center, bookstore and performance venue. Big Sur has long been a haven for creatives, artists, poets and writers - including Jack Kerouac and Henry Miller. You can shop recently published works by some of your favorite authors, as well as learn about Henry Miller's life and work. 
Drink / Nepenthe 
Nepenthe has been heralded for its incredible views and menu - and it has been visited by the likes of Clint Eastwood, Man Ray, Elizabeth Taylor and Richard Burton. We recommend grabbing a glass of wine and enjoying the sunset. There's nothing like the ones in Big Sur. 
Eat / Coast Big Sur 
Located within Coast Gallery on Highway One, Coast Big Sur features a menu of organic, local and ethically sourced ingredients. The Coast Gallery was originally founded in 1958 and served as a refuge for artists and writers. The incredible space is built with old-growth Redwood trees and has a beautiful circular design. While the menu changes regularly, we highly recommend their bread and the soft serve!
Eat / Big Sur Bakery
A staple for most Big Sur visitors, Big Sur Bakery is located in the heart of Big Sur and offers freshly baked goods, wood-fired pizzas, hearty salads and warm soups in a rustic setting. This is also a nice place to stop for coffee in Big Sur, as the options can be limited. 
Coffee / Big Sur River Inn 
You can't beat starting your morning while sitting in a river. Big Sur River Inn features a cafe where you can pick up coffee or breakfast, and enjoy the quiet of Big Sur from adirondack chairs perfectly positioned in a slowly flowing river. 
Stay / Deetjens Big Sur Inn 
One of our favorite places to stay, Deetjen's Big Sur Inn is a rustic series of cabins that has been in operation since the 1930s. Filled with so much character and unique charm, Deetjen's is listed on the National Register of Historic Places. Located just off Highway One, the surrounding forest encapsulates you - immersing you in the quiet of the trees. FYI: You can view availability on their site, but booking must be handled via phone. 
Stay / White Water 
Located down Highway One, White Water is a hotel in Cambria, CA created by PRG Hospitality Group and designer Nina Freudenberger. Situated just south of Big Sur, Cambria is a quiet town with incredible coastal views - framed by fog and Monterey Pines. You can find Norden goods in each of their rooms, and in their beautifully curated hotel gift shop.