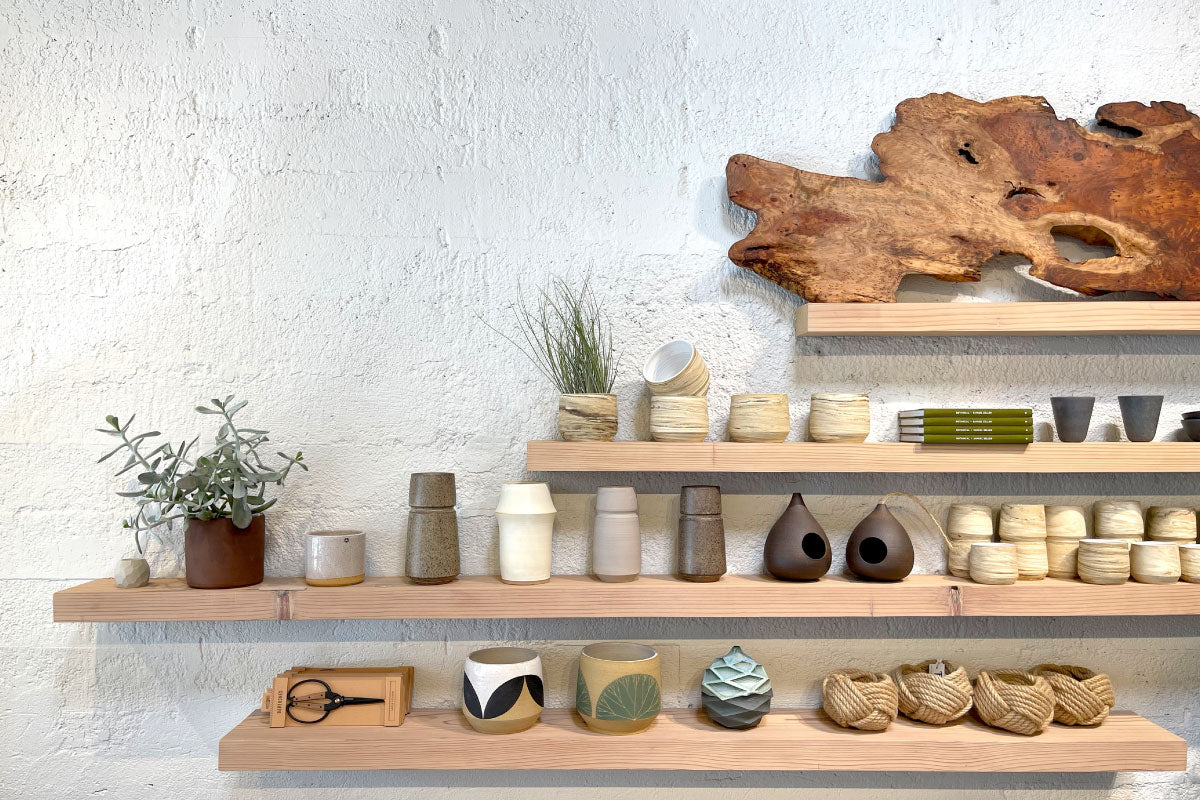 NORDEN STOCKIST: SALTY
Located in Sausalito, CA, Salty is a curated home store founded by Angela Johansen after a long career in the arts. Salty combines her love for interior design with the great outdoors. Described as a Nordic-California lifestyle store, Salty features a collection of thoughtfully-designed, nature-inspired goods in a warm and inspiring space. We are proud to have our own Nordic inspired goods stocked on the shelves of Salty, and connected with Angela to learn more about her store. Follow along below! 
Images courtesy of Salty. 
What is the inspiration behind Salty?
The beauty of Northern California inspired the store (and the name.) We have black sand beaches, steep coastal cliffs, rolling fog, redwoods, a majestic mountain—all basically in our backyard. With this insane natural beauty all around us, I thought what better place to bring the outdoors in and the indoors out.
So I set out to curate a collection of nature-inspired goods for home and life that are worthy of this lovely place. 
I'm not sure I've done it yet, but I'm going to keep working at it! 
What do you think defines Nordic style - and how can it be incorporated into one's life or lifestyle?
I think of Nordic as clean design that's also inviting—whether it be one piece or a whole room. When looking at a Danish chair you notice that every detail of the design is resolved. It's easy on the eyes, but you also want to sit in it. It's like it's asking you to. A Nordic room will ooze style yet feel effortless. That kind of warm, simple design is what I'm drawn to. 
If a person wants to incorporate this style, I think they can simply start by replacing items they use every day with a more considered version. It could be a beautiful copper water bottle, a compostable bamboo toothbrush or a pair of wool house shoes—something that brings happiness with use. It can inspire us to have less things when the ones we use all the time are beautiful.
How have you and your team navigated some of the difficulties of the past year and a half?
Since I opened only a year ago I have no idea what normal looks like! I've gotten used to shipping delays and product not always being available. It's a real lesson in going with the flow. Mostly I've been lucky to be on a slow street with people gathering to dine outdoors and hear live music right in front of my shop. Even at the most stressful of times, it's been a happy little bright spot in the neighborhood. 
What are some of your favorite places to explore in your region?
As I record this, I'm hiking with my two Weims, Axel and Lulu on a stunning trail in the Marin Headlands. The light is making a faint rainbow in the mist and there's a soft crunching of gravel underfoot. The wild fennel is in bloom so the air smells of black licorice. We can't see the ocean because of the thick fog, but it's out there. Maybe tomorrow we'll hit Rodeo beach, watch surfers and try to spot the porpoise playing in the waves just offshore. Happy trails everyone!