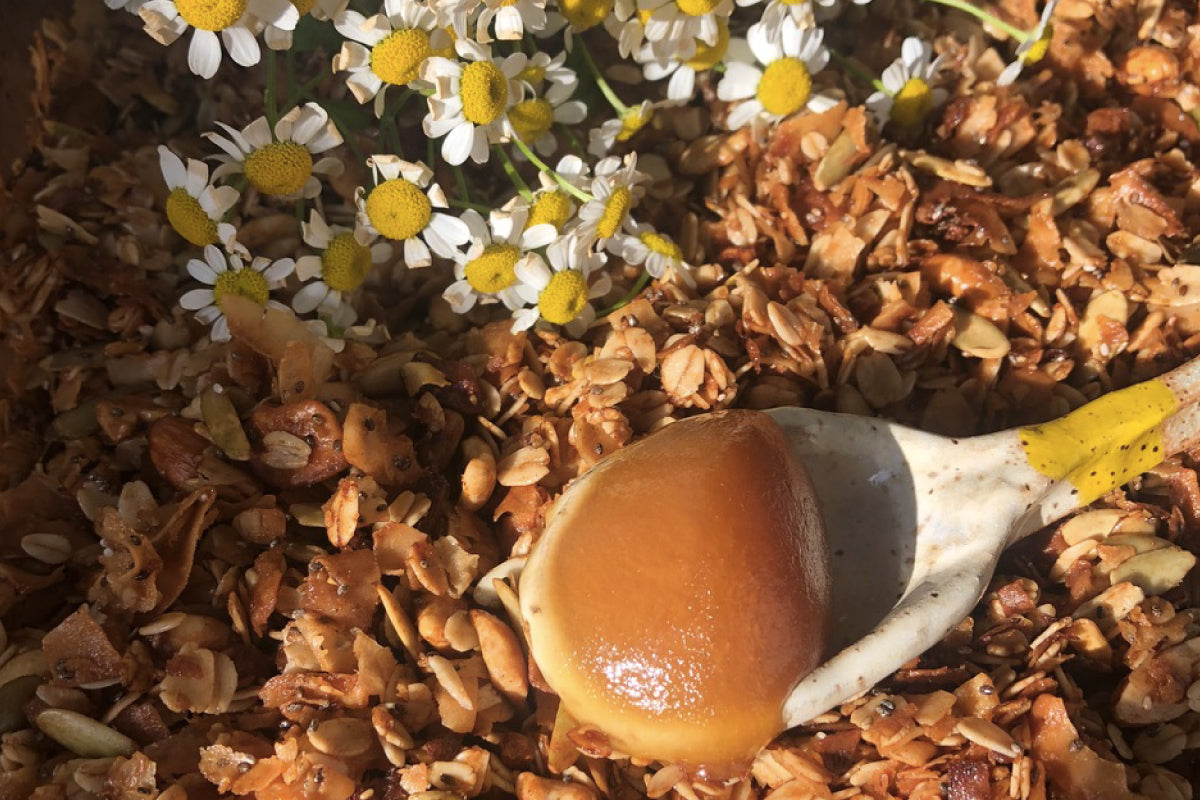 BRAND FEATURE: ACTIVIST
Founded by Gabrielle Mirkin and Luke Harwood, a husband and wife duo, Activist is a Manuka honey company based in both New Zealand and California. Inspired by their love of the earth, natural products and their shared childhood in New Zealand, Activist unites these interests.
Activist Manuka is wildcrafted in Aotearoa, New Zealand through the pollination of the Manuka Bush (during a small seasonal window in the spring and summer). Activist partners with local bee keepers to produce 100% A-grade raw Manuka honey, that has considerably higher levels of enzymes and antibacterial properties compared to other honey.
Activist's Manuka Honey is independently certified and graded using the Methylglyoxal (MGO) grading system. This grading system signifies the authenticity of Manuka honey, and designates levels of antibacterial activity. We are thrilled to stock a few of Activist's beautiful products - including the Surfer's Honey (50+ Mgo) and the Culinary Honey (100+ MGO). We are pleased to share an interview with Gabrielle and Luke here - and to gain more insight into this beautiful brand and product.
What inspired you to begin Activist? 
We really wanted to build a brand around working with honey and natural resources from our native country of New Zealand. The ability to build a brand with limited industrial impact was something that was also very important to us. In essence we are letting Mother Nature, the seasonal cycles, symbiotic relationships, and micro climates, cultivate the basis of our products. It is our role to present these to the world in their highest and unadulterated form with as little human interference and corporate shortcomings as possible. 
What health benefits does Manuka offer?
Mānuka has highly anti-inflammatory, anti-bacterial and anti-microbial properties, making it a great addition to any wellness routine and health apothecary. 
How is design integral to expressing the message of your brand? 
The message through design was to create an identity that was true to the essence of our products origin and our lifestyle choices, while still retaining an elevated sophistication. 
What are some of your favorite ways to utilize Activist Manuka? 
In our family we love to use it in many different ways. Proactive health and nutrition is important to us, so we use it everyday for immune support and strengthening the immune system. We also use it in a topical sense for skin repair and hydration, be it for beauty needs or general soothing and healing for everyday cuts, wounds and abrasions. Activist Mānuka is really the ultimate ingestible and topical product if you are looking for something 100% natural. 
Check out this incredible Honey Coconut Banana Bread recipe - shared by Gabrielle and Luke. We think this looks like a rad addition to a weekend at home. 
Photos provided by Activist and John von Pamer.