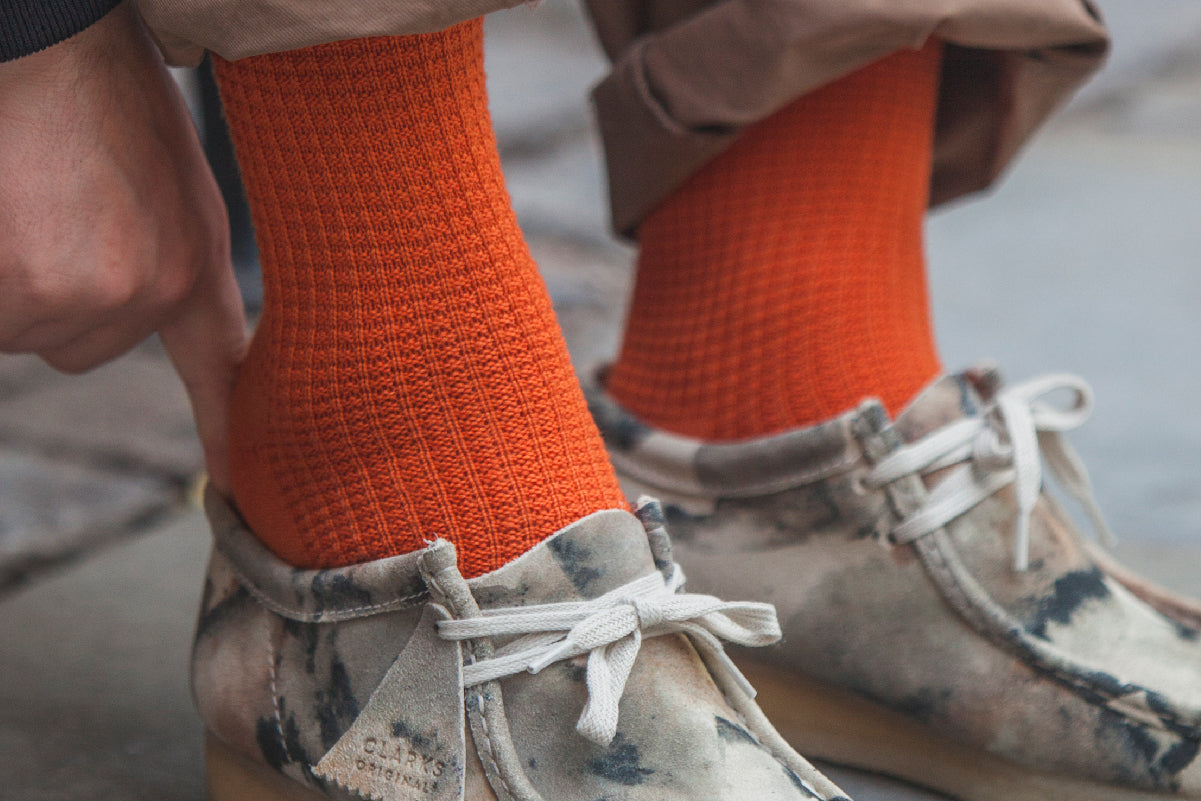 BRAND FEATURE: DRUTHERS
Over the years, we've had the opportunity to meet a multitude of designers, artists and brands that make beautiful, interesting and timeless products. With the introduction of Goods by Norden, we are now able to offer pieces from our friends, that Erika and I personally love and use every day. One such brand is Druthers, a New York City-based company that makes sustainable clothing and unisex basics. Norden is excited to offer a variety of well-made pieces from Druthers collection, especially during this time when being cozy is key. 
We recently connected with Adam Gianotti, the co-founder and design director of Druthers, to chat about his brand ethos and the challenges they face manufacturing sustainably. 
What is the inspiration behind Druthers?
Our main inspiration is to make the best quality products as possible, while designing some newness for categories that aren't as much of a main focus for design houses. Socks, printed boxers, and beanies were a great start for the brand. Then the idea was to make the designs with the best factories I could find and use as many eco friendly yarns as possible without compromising the quality. For instance, our knit hats use sustainable yarns such as organic cottons and non-mulesing merino wools, but are blended with a small amount of elastic to keep the retention in the knit. Nobody likes a beanie that's blown out by February... 6 years later, I'm inspired by expanding the designs and products we offer in a thoughtful way. Druthers is a fashion house first and foremost, so expanding the collections beyond just socks and t-shirts is an important part of our brand. Within that process, we have discovered so much in terms of new techniques and sustainable offerings. That's a super fun part of the process and part of the inspiration. Lastly, I'd say that our special projects have been great. We have alot of amazing designers and brands we work with to create a unique design and product. Working with these artists is a continued inspiration for us.

What are some of the biggest challenges you face in manufacturing sustainably?
It's getting less challenging as the years go on. 10 years ago this segment was almost non-existent. Nowadays there is so much out there in terms of yarns and fabrics that are "more" sustainable. But sustainability, in and of itself, has to be a great quality product that lasts a long time. It needs to sustain. So while we are over that initial uphill journey, the continued challenges would be to continue finding great craftsmen out there. We are a small company, so there is not much challenge for us to find sustainable yarn options, but finding great manufactures at our scale is a constant progression.

What are your favorite ways to keep busy and stay cozy at home?
At home I usually work, haha. That's how I keep busy. On my down time I cook a lot with my wife Melissa Ng. I have way to many books and records as well. So when cooking isn't in the air, I'll be burning a candle to a good book, or digging through old italo records.

What's ahead for Druthers?
Man, we have a lot of great drops underway! Look out for our projects with Lite Year, our good friends Yuri and Andy have been doing some amazing work this year. We have some special projects coming up with artists and some brands to create unique designs. We just launched a sock with Lite Year. The next drop will be a beanie collection with General Admission and a boxer capsule with some select artists from Paris and Tokyo. Please stay tuned as we announce our upcoming collections on IG or sign up to the newsletter on DruthersNYC.com.