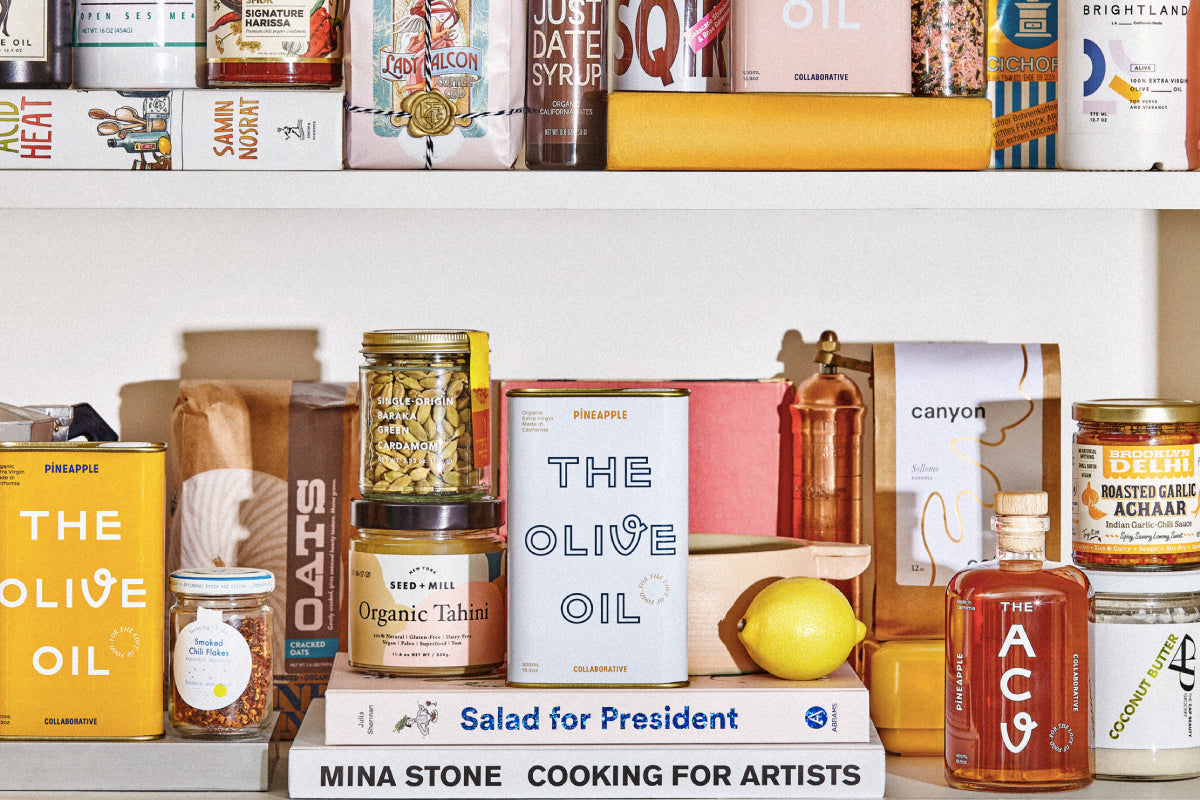 BRAND FEATURE: PINEAPPLE COLLABORATIVE
Pineapple Collaborative began in 2015 with the mission to truly build community. Originally founded in Washington D.C. by Ariel Pasternak, Raisa Aziz, Ann Yang, Maddie Morales, Jordan Miller, and Atara Bernstein, Pineapple Collaborative has grown to include events throughout the U.S. that encourage connection and spotlight women in food. We're excited to offer Pineapple Collaborative's first two products as part of Goods by Norden - and we're thrilled to share an interview with Ariel Pasternak and Atara Bernstein here.
What is the inspiration behind Pineapple Collaborative?
Ariel Pasternak: Our brand ethos is all about connection, community, and lifting up deserving voices. We founded Pineapple Collaborative in 2017 as a national platform for people to build meaningful connections through their shared passion for food. We really believe that food is more than what's on your plate–it's how you express your style, identity, and set of values. Pineapple Collaborative was created to enable these deep connections through thoughtfully produced events across the country (and since the onset of the pandemic, thoughtful and engaging virtual events for our community to stay connected), engaging content, and pantry staples meant to make everyday cooking more enjoyable—all of which lifts the voices of burgeoning talent in the food industry.
How is design integral in expressing the message of your brand?
AP: We had a vision for pantry staples unlike anything we were seeing in the market at the time. When we launched The Olive Oil & The ACV in 2019, the goal of our branding was to communicate a point of view that also supports the consumer's own choices–which is why we launched our olive oil tins in three colors–Yellow, White, and Pink and actually just added a Green and Blue tin for the holiday season. We want to ensure that our customers are able to pick out their kitchen staples in the same way that they pick out hardware or a favorite fruit bowl–and there's really a color for every kitchen countertop. Olive oil and apple cider vinegar are two things you reach for every single day, so we wanted our design to be modern, fun, and clean enough to live on your counter day in and day out.
We worked in collaboration with Studio L'Ami to bring our vision to life.
As we've been encouraged to stay home this year, what are some of your favorite recipes to cook at home? 
AP: My go-to recipes this year have been the ones that I know by heart–easy to make with ingredients I generally keep on hand. My Chicken and salad recipes are staples right now. My co-founder Atara's Cherry Tomato Confit recipe has become a regular in my rotation too!
With community and gathering central to your brand, how have you pivoted this year to maintain that same sense of engagement?
Atara Bernstein: With the onset of the pandemic in the US back in March, we really had to think through how to thoughtfully pivot a huge part of what makes Pineapple Collaborative special, but more importantly, how to best show up for our community in this time of uncertainty and loneliness. Pineapple Collaborative began in 2015 with a 30 person potluck in Washington D.C. where people bonded over their shared connections via food. Not being able to gather in-person anymore was really difficult, so we took several months to develop a careful plan that had our community's needs at the center. We received dozens of emails and DMs from our community asking us to share about their respective pandemic relief initiatives, so we created a Community Bulletin Board that anyone could add to. We hosted Zoom events that still brought warmth and hospitality to a digital space–a top priority was ensuring that these events were a safe zone for all people in our community, so we created a Digital Code of Conduct, chatted with our moderators before events, introduced ourselves using our preferred pronouns (and encouraged those who were comfortable to do the same), and let people know to turn their camera off if that was what made them feel best.
It has been really special and humbling to see our community of over 100,000 strong come together in new ways for one another over the past 8 months and we are so excited for how we will continue to show up for each other in new ways.