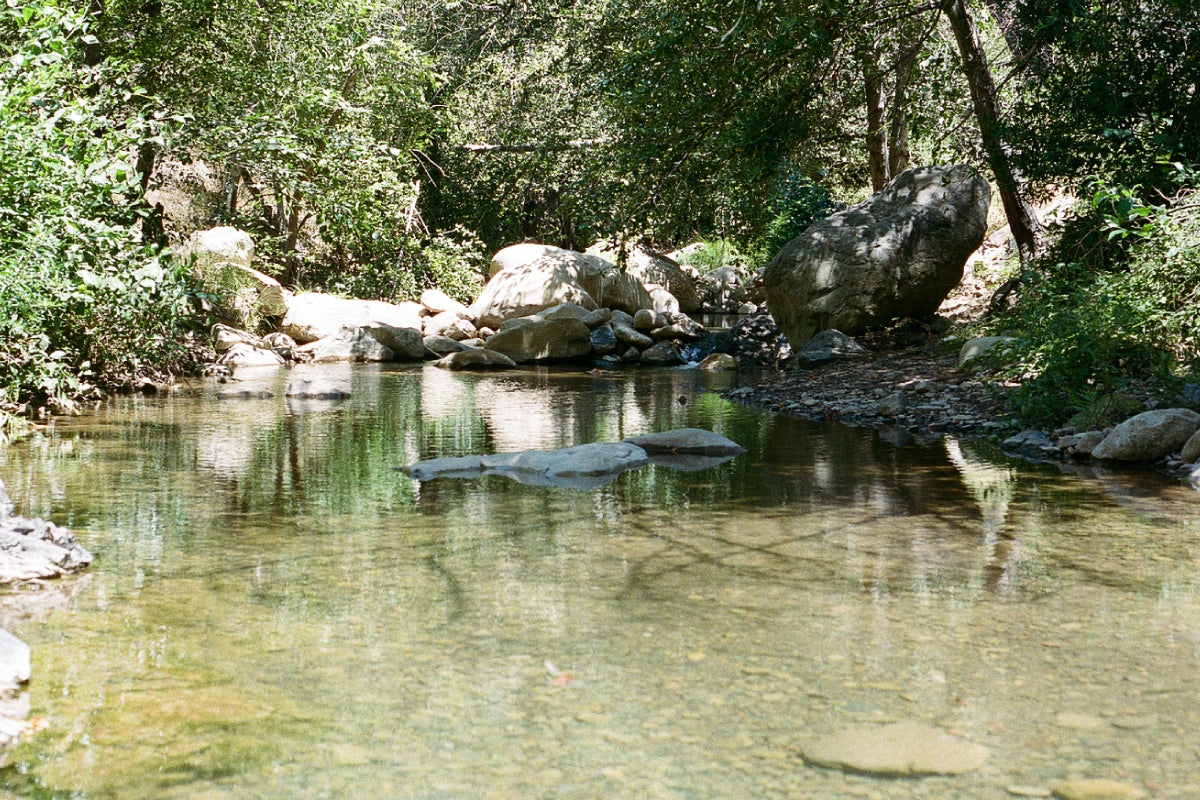 OJAI TRAVEL GUIDE
Situated in the valley of Ventura County, just north of Los Angeles, Ojai is known for its mellow vibe, spiritual retreats and abundance of recreational activities. We've always loved visiting this small town, no matter the season. Our first visit to Ojai came in late winter and the scent of decaying grass, forest, earthy balsams and the smoke from burning palo santo wood enchanted us. As one of our most beloved fragrances, Ojai is inspired by our olfactory memories of the region - and we're excited to share a look at our favorite places to explore in this charming California town. 
Scroll through for our favorite places to explore, shop, drink and eat!
Explore / Ventura River Preserve
There are so many incredible places to walk, hike and bike in Ojai. The Ventura River Preserve offers miles of trails to explore, or you can sit along the Ventura River and enjoy the small swimming pools that form here amongst the rocks.
Explore / Ecotopia
Temporarily closed during 2020, the Ecotopia Hot Springs are located in the Matilija Canyon and the waters here are said to having healing powers. We also love the community-led sustainable garden on the property, but be prepared for a trek to find this beautiful spot. 
Drink / Chief's Peak
Located next to the pool at the Ojai Rancho Inn, Chief's Peak offers a curated selection of beer and wine and is open to hotel guests + the public. The interior of this bar is super cozy - and the ceramic collection from Kat and Roger defines the space.
Drink / Topa Topa Brewing Co. 
Originally founded in the seaside town of Ventura, we love stopping by the smaller Ojai outpost of this brewery right in the heart of downtown.
Drink / Tipple & Ramble
Tipple & Ramble serves wine, beer and snacks in an eclectic outdoor space - and their store inside is stocked with picnic, patio and home goods supplies. We love to pick up a local wine here, and see our Ojai Candles + Incense stocked in person. 
Coffee / Beacon Coffee Co. 
Located in a beautiful building, just on the edge of downtown Ojai, Beacon Coffee is our favorite place to pick up coffee when visiting. We love to walk through Cattywampus Crafts, right next door, while we wait.
Eat / The Farmer and The Cook
Founded by a farmer and a cook, this restaurant is a staple for locals and features a menu of healthful Mexican favorites, packable sandwiches, pizza, juices and smoothies.
Eat / Kate's Bread
A bakery with a cult following, Kate bakes once (sometimes twice) a week with scheduled pick-ups once a week. Check out her Instagram or website for updates!
Eat / Little Sama 
From the team behind Ojai Rancho Inn (Shelter Social Club), Little Sama is the sister restaurant to Sama Sama in Santa Barbara. Their menu focuses on Southeast-Asian-inspired cuisine and seeks to bring people together. You can currently order Little Sama to be delivered to Topa Topa Brewing in Ojai.
Eat / The Nest
Brought back to life by the daughter of the original owner, The Nest focuses on utilizes local produce and sustainable ingredients to push the boundaries of classic comfort food. 
Eat / Plantface
As a center for spiritual and recreational activities, there's no shortage of health-focused restaurants in Ojai. Plantface (formerly known as Hip Vegan) is a favorite for us, as their vegan menu is delicious and flavorful — you may not even know it's plant-based.
Shop / Bart's Books
A well-known destination in Ojai, Bart's Books is the largest independently owned outdoor bookstore in the U.S. They have an incredible collection of used books, plus a variety of new books and ceramics.
Shop / Cattywampus Crafts
Located along the main street in Ojai, Cattywampus Crafts is a lifestyle shop featuring supplies for creatives and artists, alongside finished pieces by thoughtful and unique brands. Almost every item is handmade or produced thoughtfully, plus there's a variety of vintage pieces to look through.
Shop / In The Field
Beautifully fusing western styles with bohemian beach looks, In The Field feels like the epitome of Ojai. Stocking brands like Druthers, Canyon Coffee, Mollusk and Ulla Johnson, In The Field is fun to explore.
Stay / Ojai Valley Inn
A timeless staple, The Ojai Valley Inn offers a sprawling property and incredible spa amenities.  
Stay / Ojai Rancho Inn
Founded by Shelter Social Club, the Ojai Rancho Inn is one of five beautiful properties that have been refurbished from older motor lodges. The Ojai Rancho Inn is conveniently located right near town and they offer bikes that can be taken to explore the area.
Stay / The Capri
Another property from Shelter Social Club, The Capri recently opened and is a 30-room renovated mid-century modern hotel. We love the vibrant colors and 70s feel of The Capri, and look forward to staying here in the future!