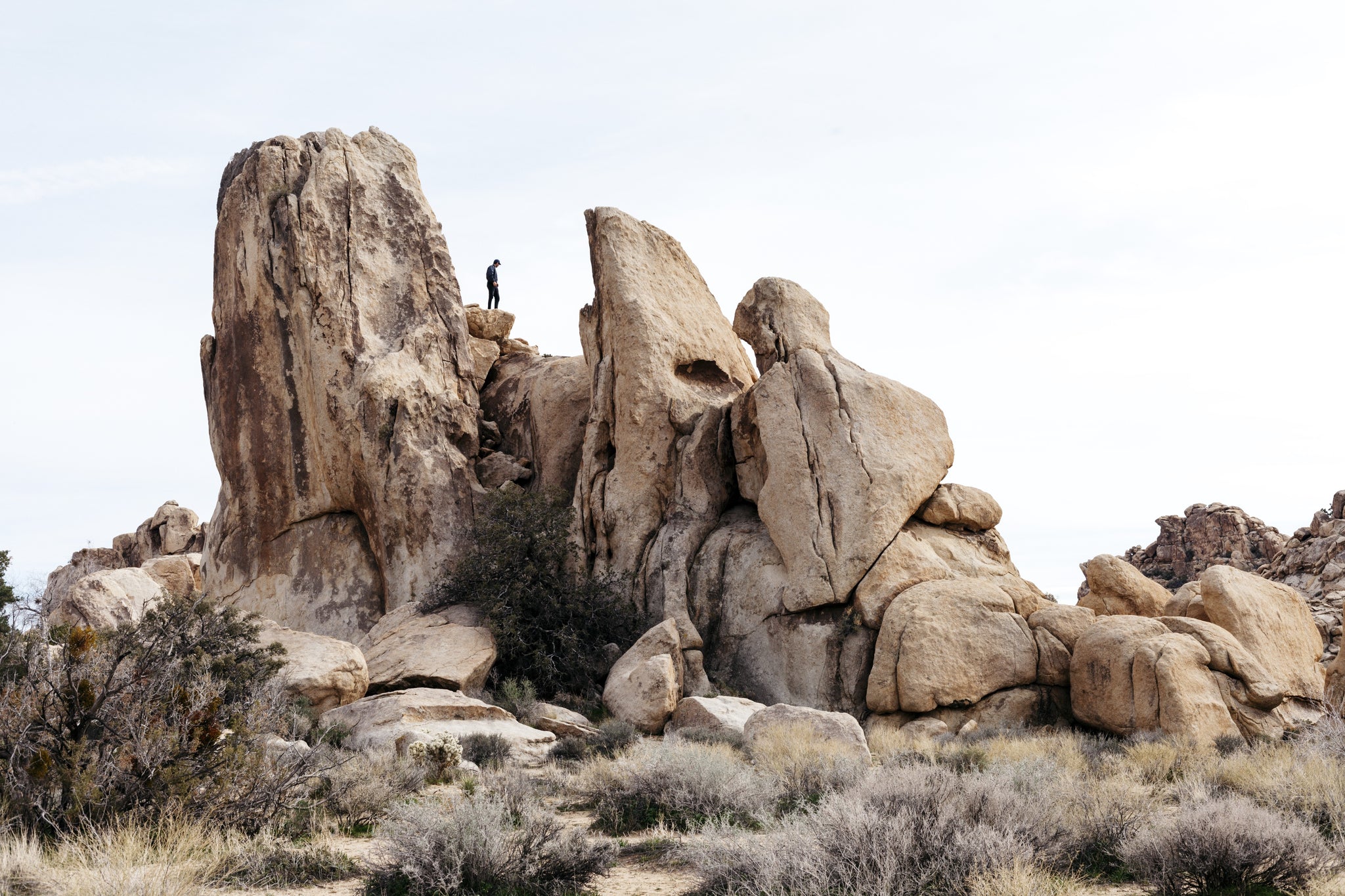 Joshua Tree Travel Guide
We've always been inspired by Joshua Tree and its surrounding locales — we're quick to head to the desert for weekend getaways whenever possible. The open plains of Joshua Tree, CA are dotted with enormous boulders, cacti, and the strange trees that give the region its name. Joshua Tree has always attracted artists, visionaries, and those who are drawn to the harsh landscape and all of its peculiarities.
We've created a special Joshua Tree Travel Guide to pair with our complete Joshua Tree fragrance line, now featuring the new Joshua Tree essential oil blend. Our Joshua Tree fragrance is a complex blend of dry, woody Hinoki, resinous Juniper and Eucalyptus to capture the herbal desert plantlife.
Scroll through for our favorite places to explore, shop, drink and eat!
Explore / Joshua Tree National Park
Obviously, the main draw to visiting this area is exploring the park. The park is really expansive and deserves some time. Drive through, hike, or spend a few days camping to really take it all in.

Drink + Watch a Concert / Pappy + Harriet's
A truly hidden gem, Pappy and Harriet's is a honky-tonk barbecue joint-bar music venue. Go for a drink, eat something, and see your favorite band in one of the most amazing settings. We've been there to see Future Islands, S U R V I V E, Black Lips, and Ariel Pink.
Shop / Wine and Rock Shop
Our friends and one of our original stockists from Individual Medley in LA opened up this gem in Yucca Valley. Natural wine, snacks, home goods, gifts, and minerals make up one of the most interesting grouping of items we've seen in a shop. Plus, dreamy cacti, furniture and fixtures by Waka Waka.
Souvenirs / The Station
An eclectic roadside shop with coffee, trinkets, tee shirts, and a Wonder Valley olive oil shop annex. Go for a picture with the giant cowboy, leave with a souvenir and a bottle of bright, fresh olive oil.
Coffee Spot / Joshua Tree Coffee Company
Good coffee roasted in a small space. Also, pizza adjacent if you are hungry.
Breakfast / Crossroads Cafe
Honest food, beer, wine, breakfast...a great stop before you head into the park.
People Doing Cool Things / All Roads Studio
Owned by Robert Dougherty and Janelle Pietrzak, this combination store and studio--"stordio"--is home to unique clothing, textiles, weavings, and home goods. Check the site for hours and pay them a visit.
Home Design Shop / Shop on the Mesa
Shop on the mesa is a beautiful furniture showroom and evolving retail shop. They also have their own line, Fire on the Mesa.
Stay / Casa Mami
We shot the newest Norden catalog at Casa Mami this past spring. We recommend a stay in this off-the-grid, off the beaten path casa in the high desert.