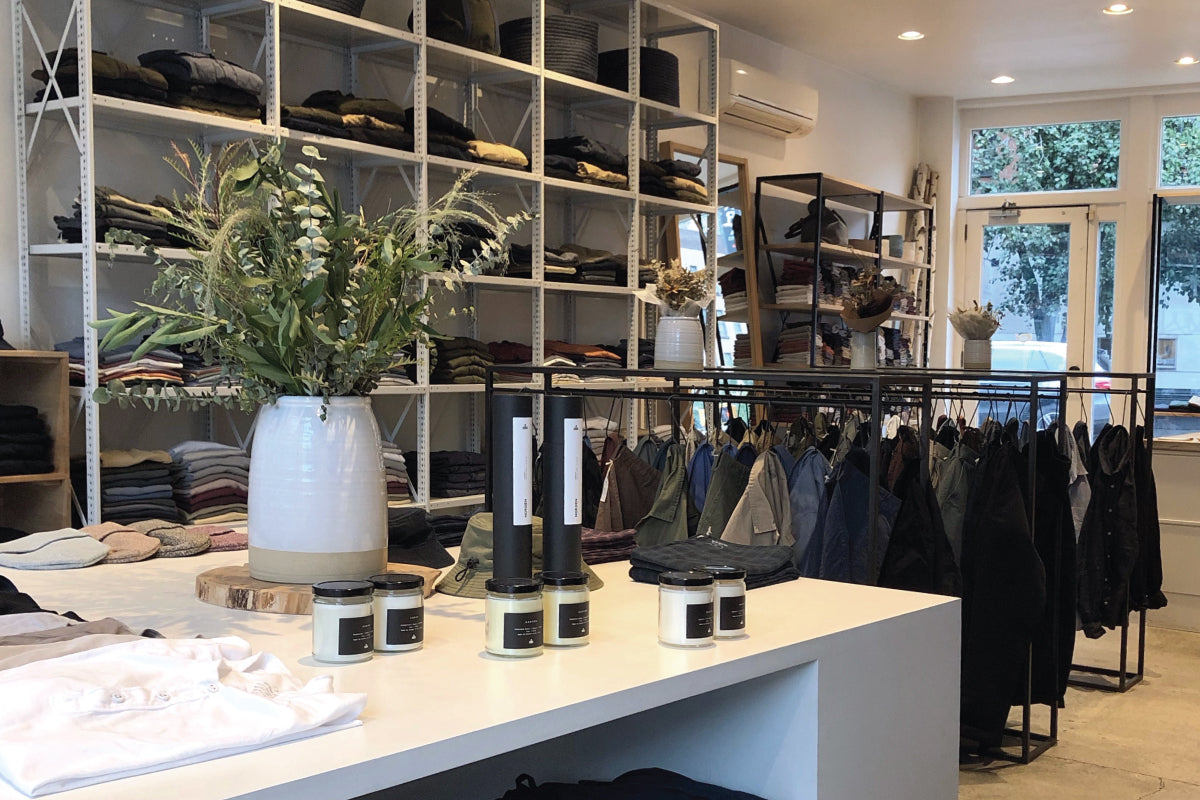 Norden Stockist: Save Khaki United
We're excited to highlight another longtime stockist, Save Khaki United. With two stores in New York, Save Khaki is a lifestyle brand featuring contemporary American sportswear emphasizing comfort and fit. Save Khaki's NY stores are perfectly curated with pieces for the home and every day accessories, including Norden goods. 
We asked Dillan Stenson a few questions about the brand, the importance of US made manufacturing and what's ahead for Save Khaki. 
What is the inspiration behind Save Khaki?
To begin with, the name Save Khaki United is intended to be tongue-in-cheek. When we started, we set out to make great fitting khakis as an alternative to blue jeans —  "not your father's khaki," but a modern interpretation of it. One that is better fitting, easier to wear and more comfortable. Our ultimate goal is to create products that are simple, comfortable, purposeful and functional. We like to say that we're not in the 'fashion' business, but rather the 'clothing' business.
What are some of the biggest challenges you face when manufacturing in the U.S.?
We manufacture all of our products in the U.S. including our own factory in Vernon, CA. Garment manufacturing is mostly labor with very little automation. Sewing a khaki has over 40 sewing operations and as many as 10 people involved in assembling it.
Another challenge is overcoming customer perception regarding our cost of goods. With the rising cost of doing business in the U.S., it is our responsibility and priority to pay fair wages and ultimately these costs are factored into our production costs.
How do you source the (outside) products and brands featured in your shop?
At the heart of Save Khaki is the importance of sourcing American-made products. We look for independent brands that share our ethos and sensibility - who manufacture responsibly and have a story and product that resonates and complements our own.
How do you feel about being a small business in 2019?
It's an exciting time to be a small business as there are a lot of new opportunities. We are seeing that it's a time that the world responds well to companies who focus  on doing what they do best. To that end, we are asking ourselves how to streamline our brand to deliver a strong and authentic product that is even more focused.

As a company, we're also working to improve upon our manufacturing processes and are exploring ways in which we can minimize our environmental impact even more.
What's ahead for Save Khaki?
We are excited about the opening of a new store in Los Angeles which is slated to open in November. We also have several upcoming exciting collaborations - one notably being with New Balance which includes a collection of knits and sweats. It will launch with select retailers in the spring.