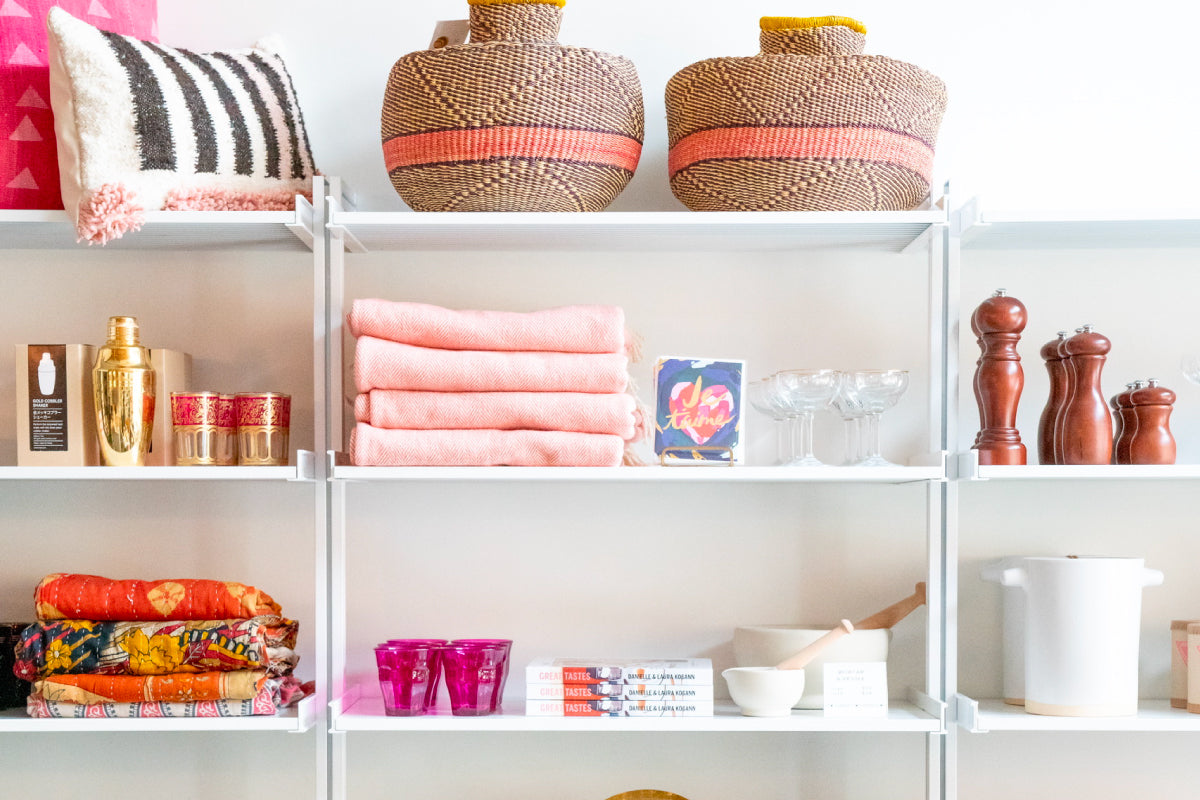 NORDEN STOCKIST: SALT & SUNDRY
Founded by Amanda McClements, Salt & Sundry is a Washington D.C.-based home and lifestyle store. Now with two shops in Union Market and Logan Circle, Salt & Sundry offers a curated selection of global goods. With colorful goods from makers all over the world, Salt & Sundry stocks thoughtfully sourced products from 200 independent brands. We are pleased to be stocked on the shelves of Salt & Sundry, and at their sister shop, Little Leaf. 
We connected with Amanda to learn more about the inspiration behind Salt & Sundry, and how her team has navigated the past year. Follow along to learn more!
What is the inspiration behind Salt & Sundry?
Salt & Sundry was born out of a desire to share quality goods that provide comfort, joy and beauty in a chaotic world. I'm a very visual person and I believe our homes and physical spaces should nurture us and promote well-being. That became even more important during this pandemic when so many people were stuck at home and living in their spaces in new ways. 
I was a journalist with no retail experience when I opened my first location in 2012, and I was intent on encouraging people to open up their homes, to really embrace hospitality and entertain. I wanted to take the intimidation out of that. As we're able to open our homes back up to friends and family, I'm excited to return to providing people with the goods that help them communicate who they are, what they're about and what they value through their homes.
In an unexpected way, my work as a writer before totally overlaps with what we do in the shops — my passion for storytelling merged into curating beautiful goods from talented makers, and sharing their stories with our community. 
How do you source the products found in the shops?
Scouting new products is one of my favorite parts of running this business, and we are always on the lookout for new goods. A lot of our inspiration comes from travel, and pre-Covid, we did a lot of buying at shows. Things have changed drastically in the past year, and much of our sourcing has become virtual. We hunt on social media for quality items with meaningful stories. We focus on women makers, BIPOC makers, and ethical and sustainable sourcing. If we want a piece in our home or lives, it usually finds a home on our shelves. 
How have you and your team navigated some of the unprecedented issues of the past year?
As I'm sure you can relate, the past year was heartbreaking in so many ways. The challenges of the pandemic, racial injustice and political upheaval tested us in ways we didn't think possible but ultimately, it's proved how resilient and adaptable we are. 
When we closed last March, we were forced to pivot our mainly brick-and-mortar business into a more robust e-commerce shop — we had an online presence but the bulk of sales were still done in person. This was a huge feat and helped sustain us through the months we were closed. Our team was packing and shipping around the clock, but we got through it, worked out the kinks, and now have a pretty expansive e-commerce shop. 
In light of the social justice movement that came to a tipping point last summer and the very real reckoning of racial injustice that's always been present for Black Americans, we committed to more intentional ways to support our team and community. We've refocused our buying efforts to support even more BIPOC makers, we've launched a monthly rare plant raffle called "Little Leaf, Big Impact" to raise money for groups working in social justice and our local communities, and our core values and mission have become even more clear. Through all the pain of the past year, we've grown immensely, and I'm so proud of our team and grateful to our community.
Salt & Sundry (and Little Leaf) is stocked with beautiful gifts. What are some of your favorite goods to show someone you care?
Norden, of course! No really, I can't live without the Idyllwild incense — it's on my personal "do not run out" list. 
We love anything related to self-care — candles, body oil, incense, books — goods that prompt you to take a little time to pamper yourself. 
And of course, plants.